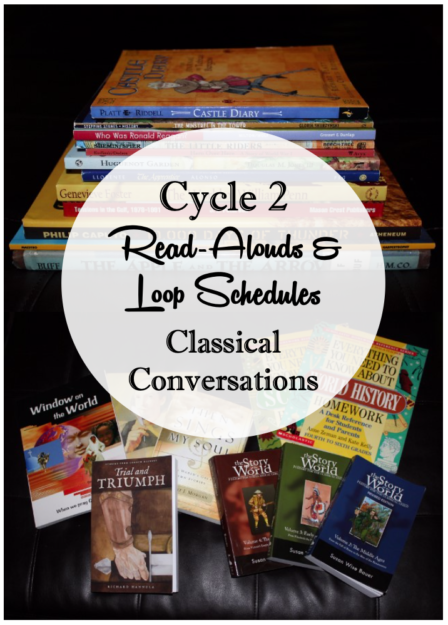 Within this homeschooling journey, I've grown to thrive off of reading great books with my children. I treasure sharing stories with them. I also ask for feedback from my children to see what they would most like to learn. And so… this is how our plans have come into existence each year.
Some parents like to keep their plans simple with just memory work & reading, writing, & arithmetic. Some like crafty stuff and online games. Some like unit studies and lapbooks. It's perfectly okay to include the things you and your children enjoy as part of your homeschool.
Please remember: I'm just a mom who is doing my best to teach my children. I also play with my children and enjoy simply hanging out with them. By God's grace, my children learn and grow tremendously every year regardless of my own failures. And I believe He will do the same for you, regardless of how you want to supplement or not supplement memory work. There's no one right way to homeschool. You have to tailor your homeschool experience to the needs of your family, not someone else's.
So… before anything else, let me be the first to tell you, plan does not equal reality. We make goals, but we do not always accomplish everything. I lay out an ideal plan that I would love for us to tackle for the year, but some things will likely fall by the wayside. (This is why we use loop schedules!) Although I offer our loop schedules for those who wish to use them, if you just want to stick to memory work and not incorporate anything else but reading, writing, and arithmetic, feel free to do so. If you'd like to tailor our plans to fit your own family's needs, you can take whatever parts you like for your family and ignore the rest.
Note: These loop schedules were written six years ago, so some of the books may have new editions or may even be out of print. For an updated reading plan that will provide a much more well-rounded learning experience that overlaps Cycle 2 memory work, click here.
These loop schedules do not include the basics of reading, writing, and arithmetic, so you will need to choose a reading/language arts program and a math program. We use a reading & spelling program that teaches phonics and then we teach sentence structure, punctuation, parts of speech, and so on via copywork and dictation. In addition to the Foundations English Grammar memory work, we've found IEW Bible Heroes (which comes with a free download of the Teacher's Manual) to be immensely helpful prior to Essentials. We've also found that IEW's Fix It Grammar is a great curriculum with short lessons in which students apply concepts in sentence mechanics, parts of speech, and parts of a sentence.
There are six major things I'm posting here…
Our Mission Faith Forgers Plan (an integrated study of church history (along with world history from 1500s to modern day), science, and fine arts)
Updated Story of the World, Mystery of History, and Scholastic Correlations
Cycle 2 Read Alouds – Version 1
Cycle 2 Read Alouds –  Version 2
Our Cycle 2 Loop Schedules (there are three – a storytime loop, a wonder-beauty loop, and a Western Civilization Study loop)
Planners with Story of the World, Mystery of History, and Scholastic Correlations Incorporated
---
1.  Our Mission: Faith Forgers Plan
After designing curriculum plans for over a decade, we've embarked on developing a Christian Classical Curriculum that integrates the study of the world and the ongoing fulfillment of the Great Commission, with a focus on loving God, His Word, and fellow mankind. For an open-and-go reading/curriculum plan that overlaps much of the memory work studied during Cycle 2 – with an integrated study of church history/world missions, world history, world, geography, science, art, and orchestra, check out our Mission: Faith Forgers Curriculum Plan. This is, by far, our best study for Cycle 2.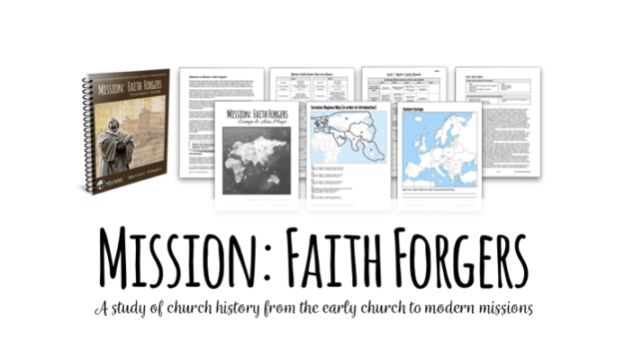 Note: Although Mission: Faith Forgers is not directly correlated to the memory work, it includes a more complete study of astronomy, physical science, and history. For families who use Classical Conversations®, the readings overlap much of the memory work studied during Cycle 2 but are not correlated week by week. This provides an opportunity for ongoing review and integration of the memory work throughout the year. Find out more and download a sample here.
---
2. Updated SoTW, MoH, and Scholastic Correlations
If you just want Reading Correlations for history & science, we've put together a correlation for the Acts & Facts History Cards, Everything You Need to Know about World History Homework, Everything You Need to Know about Science Homework, Mystery of History, and Story of the World. It's part of our Reading Correlations packet.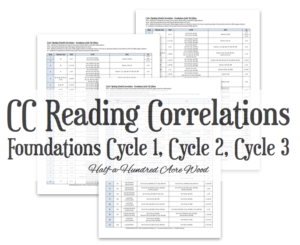 ---
3. Cycle 2 Read Alouds – Version 1
These read-alouds were selected for our children over nine years ago when they were all in elementary school. (Our oldest has graduated high school and is now in college.) For Story of the World, Mystery of History, and Scholastic Everything You need to Know correlations corresponding to both the Foundations Guide 4th Edition and Foundations Guide 5th Edition, click here.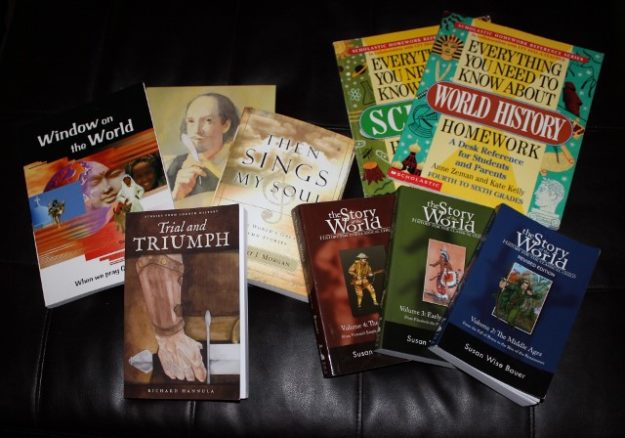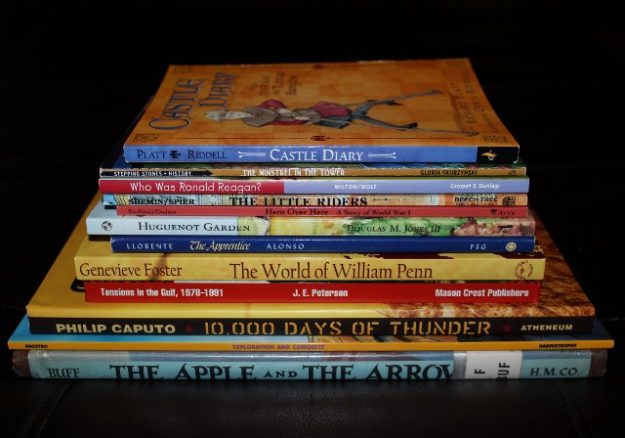 The books we read from throughout the year included the following:
Most of the read alouds below work well for younger children (Grades 1-4):
Note: Snow Treasure and Number the Stars were two of our favorites from the World War II era.
---
4. Cycle 2 Read Alouds – Version 2
These read-alouds were selected for our children over six years ago when they were all in elementary and middle school. Descriptions of each read aloud from this plan are described in this post. A list of Cycle 2 picture books are described in more detail on this post.
Bible, Devotions & Prayer: As a springboard for character and Bible study, we used Hero Tales by Dave & Neta Jackson. Each chapter is neatly divided into 4 readings about missionaries, along with a scripture to memorize, character traits to study, and thoughtful questions to discuss.
Reading Plan: You can find information about the read alouds and picture book selections by visiting: Cycle 2 Read Alouds and Cycle 2 Picture Books. In this case, we had a daily read aloud along with picture books for afternoon reading. We also included a science reading from Science in the Ancient World by Jay Wile, which covers science from the ancient Greeks/Romans to the Early Renaissance. This book presents science through the history of discoveries made across all scientific disciplines. If you'd prefer simplicity with science, we recommend the Answers in Genesis God's Design… books (so much so that we actually sell them ourselves) because the lessons are short and the activities are simple and optional. You can download free pdf samples of the Jay Wile books at BereanBuilders and free pdf samples of God's Design for Science at Master Books. Both of these books are great options.

---
5. Our Cycle 2 Loop Schedules
What is a loop schedule? Loop scheduling is just a way of planning. In a loop schedule, you cycle through subjects in a loop instead of doing them on a certain day each week. For example, in a normal block schedule, I can set aside Wednesday afternoons for nature study, Thursday afternoons for composer study, and Friday afternoons for art projects. But… if our schedule is interrupted due to unforeseen circumstances, we will either totally miss what we planned to do for a particular subject that week or have to double up the next week to "catch up."
If I use a poetry-composer study-art loop schedule, we can cycle through those tasks without worrying about totally missing out on Art Friday, for example. If we don't get around to art on Friday, we'll just do it on Monday. Even though I have written reading plans with assigned tasks for poetry, composer study, and art study each week, we often fall "behind schedule" because of things like illness, drama rehearsals, field trips, or Distractible Mom Syndrome. In this case, we just pick up where we left off the next day and don't worry about not getting it finished on a particular day. (A loop schedule more accurately represents what we do in real life.) And even though it's not listed as a loop, we also handle our read aloud books in much the same way.
I've included a place to check-the-box to keep track of where you are on the schedule. If you have questions about loop scheduling, just hop down to the comments to let us know!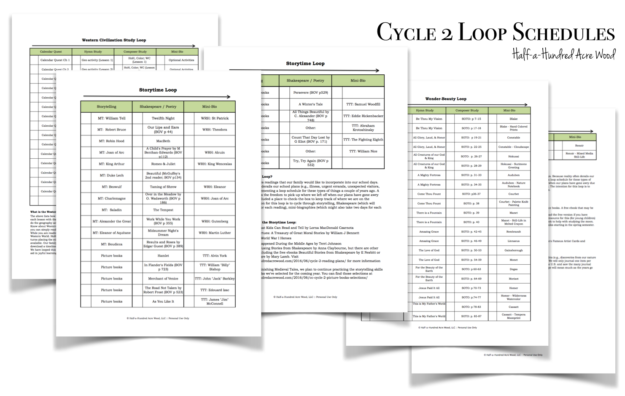 What is the Storytime Loop?
The Storytime Loop includes some extra readings that our family incorporated into our school days. The intention for this loop is to cycle through storytelling, Shakespeare (which will likely take two days for each reading), mini-biographies (which may also take two days for each reading), and poetry. Download the Storytime Loop Schedule.
If you're looking to streamline this study even further, the poetry from our Storytime Loop is available as copywork in our book, Script-n-Scribe Poetry Penmanship.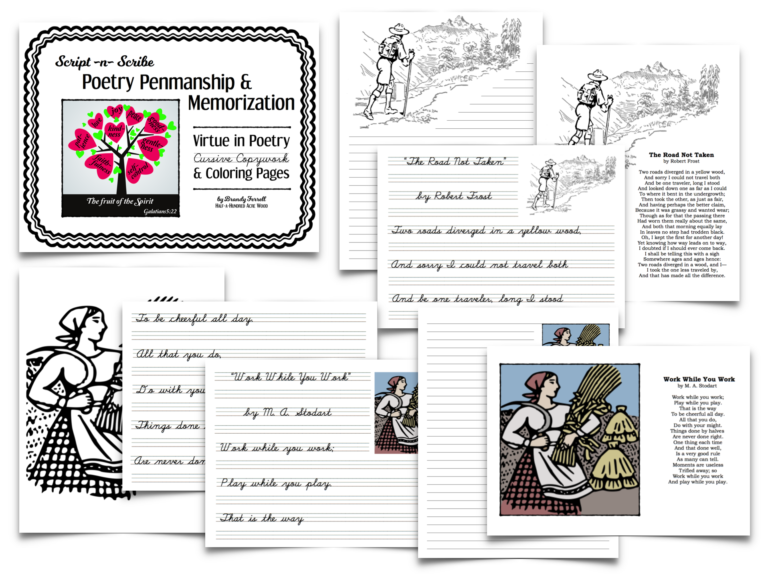 Books referenced in the Storytime Loop

MT: Medieval Tales that Kids Can Read and Tell by Lorna MacDonald Czarnota
BOV: The Book of Virtues: A Treasury of Great Moral Stories by William J Bennett
TTT: 10 True Tales – World War I Heroes
WRH: What Really Happened During the Middle Ages by Terri Johnson
Shakespeare: We used Usborne Stories from Shakespeare by Anna Claybourne, but there are other versions available, including the free ebooks Beautiful Stories from Shakespeare by E Nesbitt or Tales from Shakespeare by Mary Lamb. Visit Cycle 2 Read Alouds for more information on these books.
Picture books: After finishing Medieval Tales, you can continue practicing the storytelling skills using the picture books assigned for each week. You can find those selections at here.
What is the Wonder-Beauty Loop?
The intention for this loop is to cycle through Nature Study, Hymn Study, Orchestra/Composer Study, and Art Study/Projects. These are special activities that bring joy, wonder, and beauty into our school days. Download the Wonder-Beauty Loop Schedule.
Books we're using for the Wonder-Beauty Loop:
What is the Western Civ Loop?
If you'd like a direct reading correlation to The Story of the World, Scholastic's Everything You Need to Know… series, and/or The Mystery of History, you can find that here. We have read through all four volumes of The Story of the World (SOTW) and the first two volumes of The Mystery of History (MOH). Both have advantages and disadvantages. At the time of the writing of this post, we took a break from those and ventured over to a study that takes us through 5,000 years of history in 16 lessons, the Western Civilization Study by Brimwood Press. (Since then, we have returned to using The Story of the World because of how well it complements the other readings in our Mission Faith Forgers reading plan.)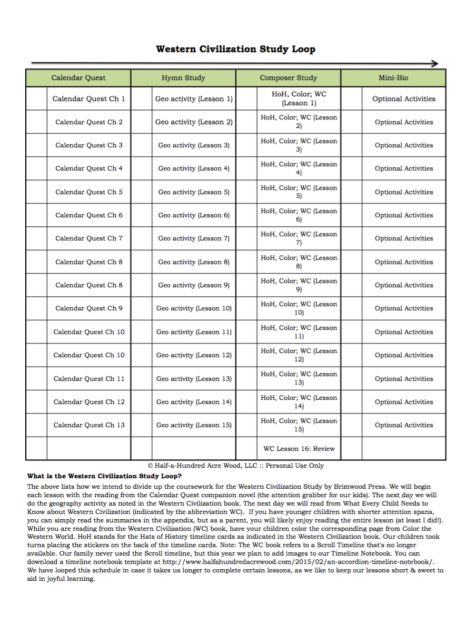 Download the Western Civilization Study Loop. (Only if you're using the Calendar Quest Western Civilization Study by Brimwood Press. If you aren't, instead of using this plan you can simply read a couple of chapters per week out of a volume of The Story of the World.)
The above document lists how we intend to divide up the coursework for the Western Civilization History Study by Brimwood Press. (Click here for a review of this history study.) We began each lesson with the reading from the Calendar Quest companion novel (the attention grabber for our kids). The next day we worked on the geography activity as noted in the Western Civilization book. On another day we read from What Every Child Needs to Know about Western Civilization (indicated by the abbreviation WC). If you have younger children with shorter attention spans, you can simply read the summaries in the appendix, but as a parent, you will likely enjoy reading the entire lesson (at least I did!). While you are reading from the Western Civilization (WC) book, children can color the corresponding page from Color the Western World. HoH stands for the Hats of History timeline cards as indicated in the Western Civilization book. Our children took turns placing the stickers on the back of the timeline cards.
Latin & Map Practice
Latin: Our children have enjoyed the Song School Latin DVDs, which include a fun storyline to keep children excited and engaged, and they include a "derivative river" which I find super-fasinating and helpful!
Map Practice: Not only have we practiced the locations of our geography memory work, but we've also worked on drawing blob maps and tracing/labeling a certain continent each year. The focus for this cycle is Europe. You can find blob map templates here and a free map-tracing download at Map Tracing with a Printable World Atlas.
6. Planners with Reading Correlations Incorporated
Below is our two-page planner format so you can include the other subjects (math, language arts, etc.). It includes reading correlations from The Story of the World, The Mystery of History, and Scholastic, as well as booklists and a Memory Work Review Schedule. Click here to see what's included!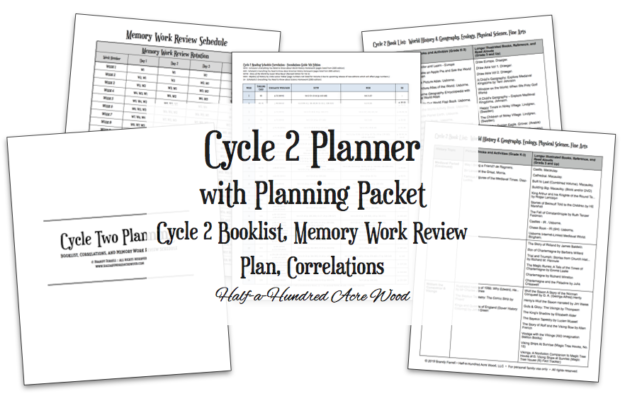 That's all folks! We hope this is helpful to you in the coming year!
Other related posts
Updated Cycle 2 Planners with Reading Correlations & Booklists
Mission: Faith Forgers Curriculum Plan
Our Cycle 2 Read Aloud Selections
Our Cycle 2 Picture Book Selections
Our Cycle 2 Booklist